WHAT IS BEST FOR YOU?
Digital transformations require qualified staff. However with the high demand for skilled programmers on the market it is not easy to find and get professionals you need.
Recruiting qualified staff for the project may take months, causing stress, delayed deadlines, missed business opportunities and financial losses. Possible solution? Outsourcing or outstaffing tech pros. In short time you get professionals that help to boost your project.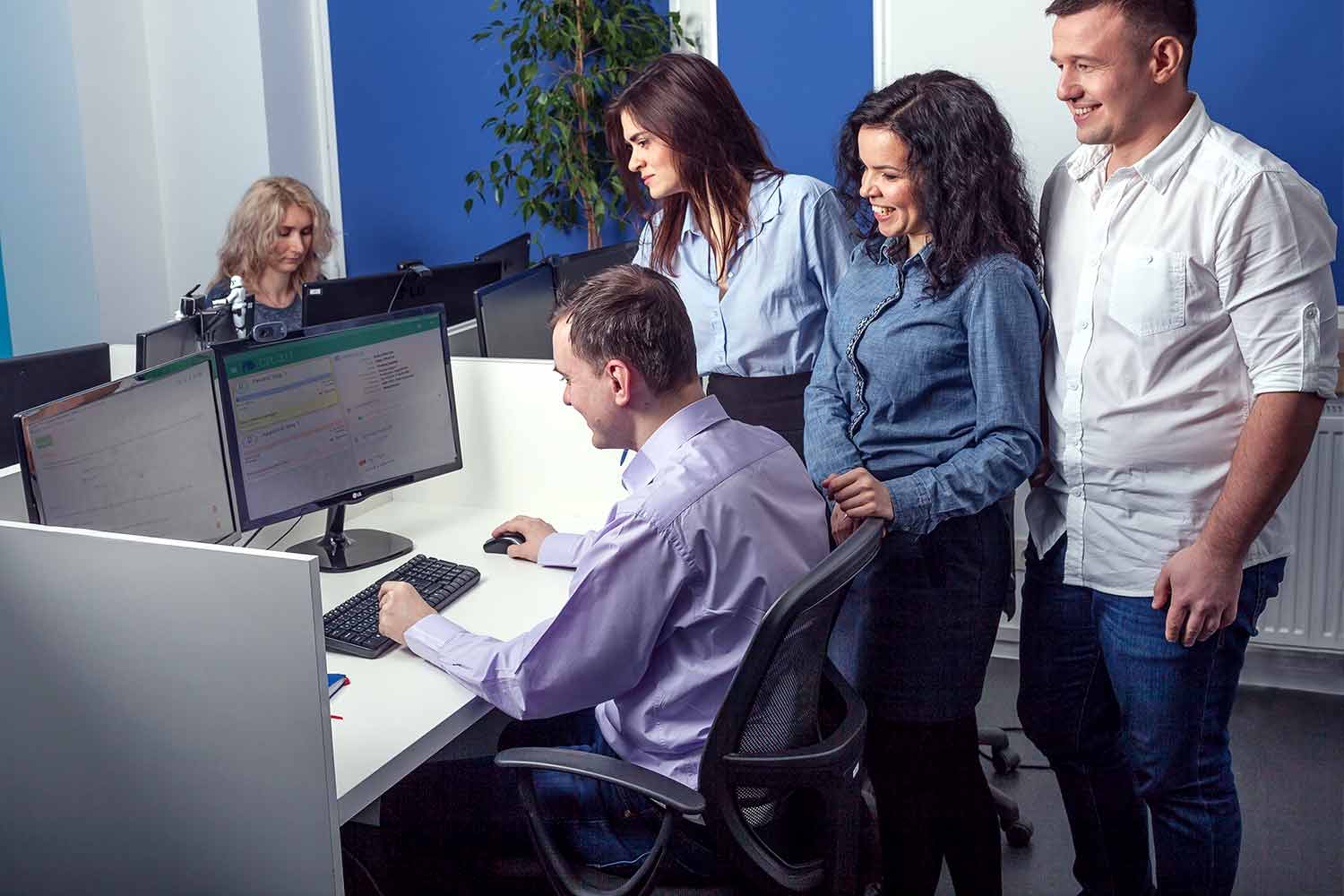 While outsourcing and outstaffing is often considered to be the same, it's a misunderstanding. Both terms include the remote work, however there is a significant difference in management and responsibilities.
Outsourcing
Outsourcing means that you are hiring a company to develop the solution you need based on requirements you have. Your software development outsourcing partner is responsible for the project workflow and manages it from A to Z. You don't have to worry about the qualified team, equipment and resources. Just concentrate on business operations while your custom solution will be delivered to you, tested and ready to be used.
Outstaffing
Outstaffing means that you hire a dedicated team of skilled professionals that work remotely on your project under your supervision. In most cases the team works together with your in-house programmers, strengthening your project. You control your remote programmers' productivity and workflow and give them tasks according to your needs. The outstaffing software development company takes responsibility for finding professionals you need, employing them and administering.
OUTSTAFFING SOFTWARE DEVELOPMENT
Your dedicated team can include professionals with skills and expertise you are not able to find in your area. You can hire developers, QAs, designers, business analysts, marketers, etc.
Outstaffing pros:
Prompt reaction to your business needs. You have talents with expertise you were looking for.
Efficiency. With highly skilled professionals your project will go faster.
Flexibility. You manage your team and add or reduce the number of specialists working on your project as needed.
Cost reduction. You dont spend additional costs on recruiting, personnel maintenance, taxes insurance etc.
Adjustability. You manage your team, set and adjust tasks according to priorities of your project.
Outstaffing challenges:
Communication. As outstaffed team members work in another place (abroad or overseas) a lack of communication between them and in-house managers and programmers sometimes occurs.
Motivation. Outstaffed team needs additional communication in order to stay enthusiastic, updated and focused on the project.
Outsourcing can help to accomplish a variety of tasks. You can outsource software development, data entry, design, testing, anything that requires an expertise your company doesn't have.
Outsourcing pros:
Swiftness and Expertise. Your tasks will be delegated to a vendor with deep experience in the field.
You can focus on business operations.You can delegate development of your software solution to a skilled team and concentrate on operations.
Overstaff reduction. No need to hire additional short-term employees.
Cost-efficiency. Nearshore outsource software development is usually cheaper than Western European, thus project cost might be minimized.
Risk-sharing
Outsourcing challenges:
Over Budgeting. Although outsourcing in most of the times is cost-saving, it might involve some hidden costs and additional funding need.
Intellectual property & privacy concerns. When you employ people from abroad, pay closer attention to intellectual property concerns and minimize risk by signing an NDA.
Delays in Deliverables. Actual time to complete project may take up to 4 times longer than the estimation. It can be caused by lack of communication, inaccuracies in implementation etc and is unfortunately difficult to avoid.